Video: 13 minute tutorial on using Divi Layout Packs
(Article below gives more context.  The idea is that Divi Layouts provide an extremely powerful way for beginners to make stunning websites)
Note: I provide these videos for free.  If you do purchase Divi (which will be required to activate the Layout Packs feature), I would appreciate you purchase Divi theme under my affiliate link.  Thanks!
Traditional ways for startup entrepreneurs to make a website
As you know, every "real business" needs a website (if you don't, you will lose on product sales, list building, and credibility with your customers).  Until fairly recently, there have only been three practical options for doing that:
You can hire a professional designer to do it all for you
You can do it yourself in WordPress, typically by spending hours looking for a theme you like, and then even more hours battling the theme and WordPress to make it work for you
You can use Weebly, Wix or equivalent
Typically, none of these are great options for entrepreneurs on a budget.  In the first case (hiring a designer), it will cost you thousands of dollars on a startup business (not so smart, unless you are really brave).  In the second case (scanning hundreds of themes and trying to imagine what they will look like with your data and graphics), even in the unlikely case that you can get it to look professional (you are a beginner after all), you will struggle to make a traditional WordPress theme do exactly what you want, and you will have upgrade problems later.  And in the third case, you may get lucky and make a nice-looking website (it's easier with Wix than with WordPress), however you will have the same problem of upgrading the site later or adding eCommerce functionality.
None of these options are very attractive unless your business is already established and making money (in which case by all means hire a designer — they may also give you priceless advice on web marketing).
However, the Divi theme changed all that in 2016 — and it keeps getting better
Divi was first released in late 2013, and the page builder in May 2014.  Divi was not the first attempt to make an "all-in-one" commercial WordPress theme — a theme that would be so powerful that it could handle any website except the most demanding ones — however it is, in my view, the best.
Why is Divi the best?  And that's another bit of history-making WordPress theme development, which is the release of Divi 3.0 in September 2016, followed by the release in January 2018 of the Divi free layout packs.  The power of the layout packs, is that you get 140 professional pre-made layouts to use (almost 1000 page templates) — and specifically for your home page, which is the most important.  Even if you use the default Divi page template on your other pages, you are a winner out-of-the-gate, because people will look at your home page and say "Wow".  It won't look like its made by an amateur — even though it is.
So here is what I recommend:
If you are a rank beginner, you will first need to learn WordPress and setup a hosting account.  I have taught 40,000 students WordPress in my two courses, WordPress Essentials Quick-Start and WordPress Essentials Complete. Plan on investing 2-4 hours here.  Unless you are a technical genius, I don't recommend you just "wing it" (i.e. create a blank website and fool around until you "get it").  It's not smart use of your time.
Second, learn Divi.  This will take you another hour or two, depending on your technical experience. You will need to learn the page designer, also known as the "Visual Builder".
Third, get yourself a professional home page by installing one of the Divi layouts and customizing it (this is the process I followed on Authentic Singles — judge for yourself).  You actually have three practical options here (similar to the above):
Hire a designer to do it all
Do it all yourself
For most people, options 3 is usually the most effective.  Here is why. 
You may be able to do it yourself, depending on your skill level.  You may sweat some tears during the process however, and you may give up in frustration and have to hire somebody anyway.  if you do it yourself, you WILL need to research some graphics, install a newsletter or auto-responder, and maybe do the eCommerce part or appointment booking solution or whatever.  The latter two (newsletter and ecommerce) can get quite technical, and also you need a moderate level of experience with Divi to even use the templates / layout system and learn the various options.
But give it a shot, if you are so inclined. There is joy in learning new things, and saving money in the process. You may be so successful that all your friends will beg you to do their websites (this may be a mixed-blessing), or even go professional (like me).  For the typical busy business owner, however, doing it all yourself will NOT be the best option.
Next steps
If you agree with my conclusions here (and only you can decide that), please check out our $500 Website Makeover and/or our $150 eCommerce Makeover.  If you want to do it yourself and want to start cheap, check out my $10 GPL software bundle (which includes Divi theme and most of the eCommerce plugins you will need).
To summarize: my proposal is to partner with you on this.  Send me a contact request and we can take it from there.
How to access the new Divi layouts?
This is not necessarily user-intuitive so let me tell you.
To access the Divi layout packs, you will need to purchase the commercial version of Divi (Note: if you are a student in my courses, I can give you a Temporary API Key to Divi for use on a development site.  Go to your Member's Area and follow the instructions from there).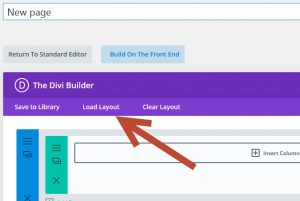 Then create a new page, activate Divi builder, and click on "Load Layout" in the top bar.  You will see the screen populate with 900+ professional layouts.  All the graphics you see are available to you, but you will probably need to change them. For this I like the free trial provided by Adobe Stock Images which gives you 10 images for free in the 1st month.
If you have NOT purchased the commercial Divi version (or else got Divi from me) there is still a big range of free (or cheap) Divi layouts you can download. It's just a bit more complicated as you have to get (or purchase) the .json file from the vendor, and load it up on your site.  But it's possible.
Good luck!
Reminder: I provide these videos for free.  If you do purchase Divi (which will be required to activate the Layout Packs feature), I would appreciate you purchase Divi theme under my affiliate link.  Thanks!